10 Year Anniversary Reunion
September 12-14, 2003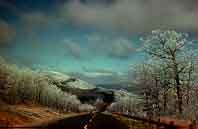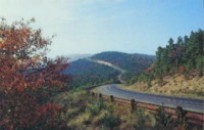 Mena, Arkansas
Registration
Please register ASAP so that we can keep a count on T-shirt orders.

$25 per person. It will include a 93LE Event Shirt and the Talimena Scenic Drive Book. Meals are separate, ~$5 breakfast and $11 dinner at the Lodge.
Highly recommended
93LE Registry will continue to be listed on this site. Please forward any corrections, updates and photos to me. I will post one photo per registrant.

The 93LE Forum was initially set up as 93LE@yahoogroups.com as a yahoogroups list server. Currently this website has a Forum.

LE Sequence number - Call Mazda at 1-800-222-5500 with your VIN number.
Miata Lodging
The primary lodging will be at the Queen Wilhelmina Lodge atop the Rich Mountains.
Let them know you are part of the Miata 93LE Anniversary Reunion.
Single bed ($62), Double beds ($72), King ($72), Regency ($110) and Queen's ($110)
The Regency has a bathroom spa and the Queen's has a fireplace.
More Information
Previous LE Gathering at Deal's Gap '99
Advertising
- Mailed and E-mailed 180 flyers to 93LE Registrants and 40 flyers to local club presidents.
- Listed in www.Miata.net. MazdaEvents.com pending.
- Advertisement in Miata Magazine. Missed the 2003-II issue. Will print in 2003-III issue.
Activites (revised after the event)
Friday
- Check in at Queen Wilhelmina Lodge
- Group dinner at the Lodge and casual meeting with other owners
Saturday
- Buffet breakfast
- Photoshot of LEs posing in the thick clouds.
- Talimena Scenic Byway (Three Mountain Drive)
- The Talihina-271-Heavener loop was deleted from the drive.
- Lunch in Heavner, OK at the Southern Belle restaurant
- Back to the Scenic Byway to the West End Visitors Center
- Casual drive back East down the Byway to the Lodge
- Interpretive hiking trail to Lover's leap (1.5 hours) [too late]
- Group dinner at the Branding Iron in Mena, AK (great BBQ)
- Campfire with scary Miata stories [too cold and windy]
Sunday
- Buffet breakfast
- Goodbye, departure and wait for the next reunion.
for more information contact: