#1277/1500
Rick Connolly
Boise, Idaho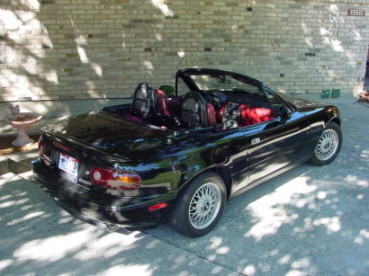 This car was found in a salvage auction where my brother was scouting for spare parts for his Miata racing efforts. He determined that this was worthy of repair & secured the winning bid. Then he called me:--- "I gotta a car you can't pass up"....hummmmmm. You might know how brothers can be.

The damage was mostly cosmetic. So I took the project on that my bro started. Both doors & the left front fender were replaced. As I found out later, the left front upper ball joint was bent and subsequently, I replaced it. The rim at that location was slightly dinged but still straight. I now suspect the wheel bearings to go at some point but I couldn't detect any brinnelling.....yet ! I might just replace it anyway....a locked single front wheel at speed is a real rodeo. I suspect that secondary things will show up for a while, always something to do.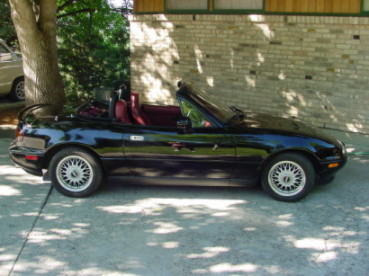 All cosmetics were brought up to factory specs: door, speakers, panels, paint, etc. were installed. The saving grace for this car was that the prior owner really babied the car with maintenance & care. The alignment was set to factory plus some camber. Motor still has 181-184 psi compression measured at 2900 ' elevation with 88K miles. Went through all the hassles & bureaucratic pain to get the "rebuilt" status on the title--complete with photos & bent parts as
proof.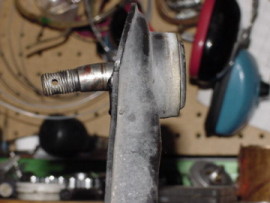 And while I was at it, I made some mods. The air scoop was done with a die grinder to cut the steel & fiberglass to re-shape the surfaces. The internal intake air horn was cut & rotated to face straight ahead to receive the colder air. This mod also helps the cooling of the exhaust down pipe that can heat up the tunnel at the gas pedal. On a long summer trip the heat radiating through was noticeable but not any more. I will fab a cat back system in the future when time permits.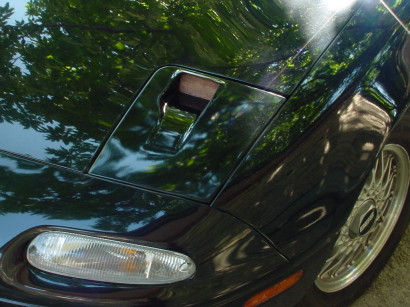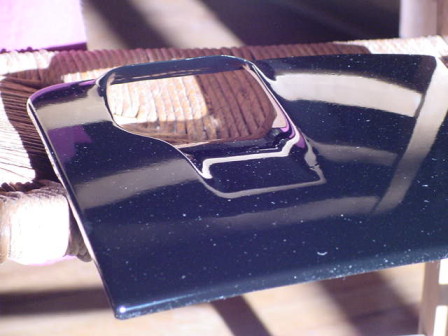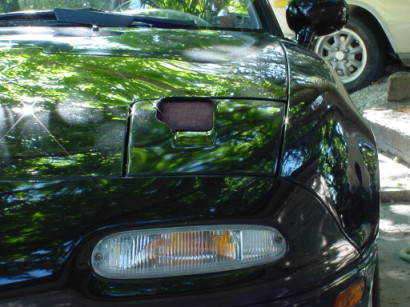 Scoop was hand made by cutting an extra lid with a thin rotating cutting wheel. A 3 sided cut in the shape shown was made & then I bent the tonge shaped middle part downward. Next I used fiberglass wroving & resin to form new sides to the opening. Once that hardened up , I used car bondo to fine shape the opening. Then paint. I had to re-route the wire harness out of the way & also make up & place an air deflector plate just behind the opening. This redirects the air around the cruise control body. I also cut the air intake horn & rotated it approx. 180 degrees so as to face the on comming airstream. I just used a strong plastic tape to re-join the horn parts. On & off, it took a couple of days...I had most of the materials hanging around, but they can be had at most body shop supplies houses.

All lubs were replaced with redline products (we're racer oriented, the specs are superior), magnets placed in all oil baths, and went with a Mobil 1 Mellinia oil filter, jackson foam air filter. Oil pressure at the sensor runs 65 psi cold & ~55 warmed up. Also added the roll bar for some safety and wind control (A gift from my bro).